On January 23rd we left a cold and rainy Toronto airport to head down to St. Simons Island in Georgia. We were giving a masterclass for students the next day, followed by a full recital. Things often go smoothly when traveling, but not that day! Our Delta flight from Toronto was delayed because of technical issues with the plane, so we were a bit anxious about missing our connecting flight in Atlanta. After an hour we did leave Toronto, arriving in Atlanta with only 15 minutes to get our next flight. We rushed through the huge airport and just made it to the plane, but of course we didn't know if our luggage, the tuba, and my trombone would be transferred to our flight. It was shorter 1 hr. flight to Jacksonville FLA, where we were to be picked up by Rhonda, the music director of the church and our concert presenter. Of course our luggage didn't make it and we had to wait a couple of hours for the next flight. Good thing we weren't playing that night! While we were waiting I noticed the many army personnel in their battle fatigues coming and going from U.S. and overseas bases, not a regular sight in Toronto.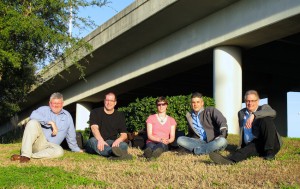 Richard and Chris found a nice place outside to soak up the warm (23 degree C) sun, so we went out and sat for a group picture. From left to right: Al Kay, Richard Sandals, Christine Passmore, Sacha Johnson, and Bart Woomert. Finally our gear arrived and we were in the church van with Rhonda, heading an hour north to St. Simons Island. We headed off the main highway heading east over a lovely suspended bridge to get the island. This is a very marshy area, with fishing boats as well as large ships which were unloading vehicles. We finally arrived at our Best Western, checked in then quickly left for a very nice Mexican dinner with Suzanne, our other helper who leads the church bell choir. After eating too much we headed to the church for a rehearsal, to scope out the set-up and acoustics. Every venue is different so it's important to play a bit to be sure everyone in the group can hear each other. It's been a long travel day, so off to bed.
The next day we had decided to meet at 3pm to get the van to go to our student masterclass, so after breakfast we each did our own thing. I decided to walk to the beach (I was told by the hotel that it's probably 30 minutes -it actually took twice that!). On the way I stopped at an outdoor fruit stand and bought some very fresh local oranges and a bag of hot boiled peanuts, a local favourite. It's actually pronounced "balled pay-nuts" I think!
I went into the Bloody Marsh battle monument area where the Scottish and English troops fought and drove out the occupying Cuban and Spanish armies. Aside from some nice birds and swamp there's not much to see. As a child in Scotland I used to spend all my summers at the seaside, so seeing the St. Simons beach and smelling that salt water made me smile! Shoes off, I paddle a bit in the cool Atlantic waters (no swimming today!) and walk up and down the beach. My picnic (peanut) lunch was still hot so I sat in the sand, ate, and enjoyed the warm sun. After a few hours (getting a bit of a sunburn I was to discover a few hours later that evening) I had to head back to the hotel to get ready.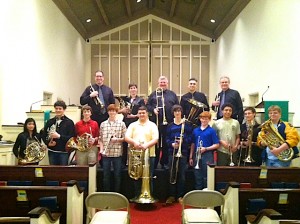 We met at three, drove to the church and warmed up. By four o'clock there were around 12 eager students from the local school at the church. TNB played some tunes, got them to perform some scales and brass techniques, and talked about the passion needed to be the best on their instrument. The students were invited up to the stage to sit around us as we performed as this is an excellent lesson to let them hear and feel the amount of energy and sound that we are producing up there. The hour together went by very quickly, and as some left for the school van, others stayed for some last minute lessons. It's great to see young musicians inquisitive and excited about learning new techniques!
We had a nice dinner and conversation with Rhonda and her very funny husband, architect, photographer, and author Harlan Hambright, then it was back to the church for the recital. This was a more difficult concert endurance-wise since there was no intermission, but we made it to the end no problem, and the very enthusiastic full house gave us a rousing ovation. We met and talked to many of the locals after at the reception, including a few couples from Guelph and Toronto! It was great to be part of this very successful concert series and Rhonda and the church should be congratulated for a job well done. The end of the evening called for a few drinks at a local bar with Suzanne and her husband, Rhonda and Harlan, and then back to the hotel. Our flights home went smoothly, and we were back in Toronto by 6pm. Looking forward to our next gig in a few weeks!
Al Kay.
More TNB pictures at <alkayphotos.com>