Paul Baker of North Bay approached us about giving a masterclass for local brass players while we were in town. This is a true passion for each member of TNB to participate in, so we were thrilled to be asked. I must say, a lot of planning, advertising and organizing went on to make this happen by Paul and Darren Denomme. Alison Denomme is the music director at Mother St. Bride School and also Principal Trumpet of the NBSO. What a team! Over 34 brass players arrived at 10:30 am Sunday morning to have some TNB fun. I led the proceedings with an intention for the class: To inspire and share ideas on effortless sound production. We chose to focus just on sound for our 2 hour class. It is impossible to cover too many topics and sound is the essential for anyone's playing ease and enjoyment. Also, a great sound means you are breathing and supporting the air properly, it is the basis of great technique and the best vehicle for great music making. Every great player focuses on sound production first thing in the day.

After an initial introduction and teaching of sound production, breath support and how to get efficiency and ease in playing, we broke into groups of like instruments for 45 min.. I know the horn group was really interesting. (Some wonderfully curious minds and very good playing from our North Bay participants.) I had a great time co-teaching with Roslyn.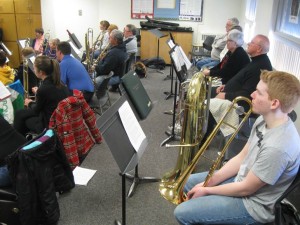 After the break out we assembled to have people come and join TNB, playing along with our group. Al is so encouraging and inspiring to have people push their limits. We played Don't Get Around Much Anymore which means there is a Trombone ad lib solo involved. Both players who stepped in showed a wonderful and courageous willingness to risk taking a chance on improvising. This was inspiring to everyone there. Playing together was a great way to show some TNB tips on group playing, having fun together and communicating with the music to each other and to the audience. We discussed preparation and practice habits, mind chatter and stage nerves. There were some great questions and we closed off with playing and audience involvement.
We want to thank Paul Baker, Darren Denomme and Alison Denomme for their idea and their willingness to organize this event. We would love to come back for a repeat class anytime. Yamaha is sending posters out to the participating schools and we hope we can be an ongoing inspiration for all brass players.