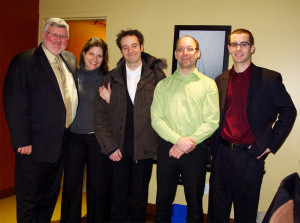 I had a busy December gig schedule with some Christmas TNB events. The first was a grueling drive up the 401 (for a noon concert in Gatineau) with trumpet player Steve Woomert after an 8pm Ellington Nutcracker concert! We arrived around 2:30am, checked into our rooms, a got up a few hours later to do a 9:30 am rehearsal with Montreal musicians Manon Lafrance – one of our regular trumpeters, Louis-Philippe Marsolais on horn and Pierre Beaudry on tuba. TNB has always attained a very high standard of playing, and these new players did not let us down. We sent the music and sound files by email to them so they can practice it and play along with the tracks. Their musicianship and playing experience helped make this work well. The audience was mostly French-speaking so I'm glad Manon did most of the talking! We played repertoire from our Christmas CD that Scott arranged with a few of my jazz versions. The audience loved it and I got to play with some marvelous musicians! Back in the car with Steve by 2pm to head back to Toronto.
The following week TNB and longtime friends Lydia Adams and the Amadeus Choir performed a lovely concert at Yorkminster Park Baptist Church. TNB added Rachel Thomas on trombone (one of TNB's regular subs) to fill out some of the repertoire. I re-arranged The Christmas Song to include Rachel, adding one voice really fattens up the sound of the brass. Thrilling and beautiful sounds from brass and choir, it was a memorable night!
A few days later we were rehearsing with the St. Michael's Choir School for their annual Christmas concert at Massey Hall. TNB has worked with conductor Dr. Jerzy Cichocki and the choir many times over the years. We didn't have Scott and Joan available for this one, but our founding member Ray Tizzard organized 8 great brass players to join us including Ray on trumpet. We performed the concert over two days to full houses. It's always glorious to play at Massey Hall!
Our Roy Thompson Hall concert every year accompanying the Toronto Children's Chorus is a highlight for us. The sound of the brass and 400 children and alumni singing Christmas carols makes you weep it's that beautiful! Looking forward to next Christmas.
My last gig of the season was an annual ritual playing Jingle Bones at a local pub. Toronto bass trombonist Colin Murray organizes this event, with proceeds going to a different charity every year. Dozens of amateur, students, semi-pro, and pro classical and jazz players showed up to take their turn sight-reading interesting (and sometimes cheesy!) Christmas arrangements for anywhere from 5 to 10 trombones. It is always a fun hang, you get to meet new faces, and see players you haven't seen in years. Everyone departs at the end of the evening in a fine holiday spirit!
Al Kay